DHS Careers Programme
Careers Programme 2020 – 2021 Summary
Vision Statement
At Daventry Hill School, our priority is to support to develop happy and successful adults. With this in mind, we have recognised the importance of a Careers Education and Guidance Programme and is key in preparation for adulthood. The programme has been developed to allow those students where appropriate and meaningful can gain employment. This can be as paid employment, voluntary, day services or further education. For all, it will support becoming a positive member of society.
We recognise that our students have a wide range of abilities and needs, ambitions and plans for their lives after Daventry Hill School. We aim to prepare young people for what is the most appropriate and realistic for them. We follow a person-centred approach, working with the young person directly, families and any outside agencies. This allows students to have a voice and a level of control when making important decisions that will influence their future education, lifestyle choices, and career options. This is supported by impartial information and advice provided by a level 6 trained careers guidance practitioner. Throughout KS4, students will have PCP (person-centred planning meeting) to ensure a collaborative approach is taken. Students will complete a vocational profile to help guide and assess decisions in addition to receiving meaningful guidance.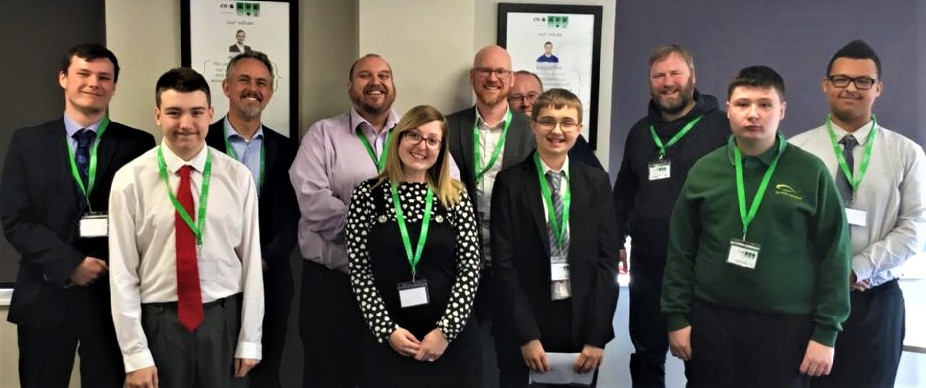 Our purpose and relevance of employability skills is to embed the core competency skills throughout the curriculum at Daventry Hill School. We believe that all of our students have an entitlement to the Skills development and work-related learning curriculum. This develops progressively throughout their time within school. It encourages them to identify, develop and use their abilities. The careers programme has been carefully designed and advances regularly to support the needs of the students. The programme is appropriate for all of our students and includes the development of not only core competency skills development through skills' builder but also, employability skills, life skills, social skills, communication, relationships and independence.
We support the National careers strategy to actively prepare our young people in the best way that we can. As a school, we are working towards achieving all eight of the Gatsby benchmark and work closely with supporting agencies such as Skills builder, SEMLEP and the Careers & Enterprise programme to do so.
Employability — work-related learning opportunities
Throughout the year, students have the opportunity to take part in a number of career activities, in addition to the employability curriculum learning:
Enterprise Days — An all-day experience and chance to put all Skill builder skills into practice. This includes working as a team with members from the local business community, having to meet deadlines, producing quality products, giving presentations and receiving rewards for hard work.
Enterprise Fayres — Throughout the school year, we run enterprise fayres where we encourage local businesses to come in and support Daventry Hill School. Our students have the opportunity to run their own stall and market work-related product items.
Being able to attend local careers fayres and taster days at local colleges. This is available digitally for those unable to attend in person.
Meet The Expert — We welcome visitors into the school for motivational talks, workshops and Q &A sessions throughout the year. The students of Daventry Hill School, look forward to meeting people from different industries of work.
Student intern positions — throughout the school, we have a range of roles available for students to take on additional responsibilities. Candidates gain a feel for the recruitment process, training and what it is like to be an intern.
Each year we celebrate National Careers, Apprenticeship Week and Neurodiversity week. Along with other awareness days that vary year to year.
Within 'My place in the world' (KS3), students receive a weekly dedicated lesson, which introduces students into developing core competency, employability and life skills to help prepare them for employment and to become a model citizen. How this looks can vary from, work-related enterprise projects, classroom or virtual learning, off-site visits and school projects.
For those in 'Skills for Life' (KS4), students will have access to accredited qualifications if a suitable and meaningful option. In addition, they will have the opportunity to take part in the following, where employability is woven throughout:
These are:
Duke of Edinburgh Award
Princes Trust
Variation of skills-based accreditation
Bespoke Work pay programme – To support with destination and transition - Year 11/Post 16 only
NCS (National Citizen Services) Year 11/Post 16 only
KS4 and 5 have access to our employability microsite developed by Be-ready and Skill.org.uk. This allows our students to independently look at labour market information, job adverts, and completed online learning modules to develop employability and digital skills. This tool allows parents to explore with the young person when not in school. This provides them with accurate, impartial guidance to help support young people with future plans.
Career & Labour Market Information.
Students and parents can access information regarding Careers through a number of different ways. If parents wish to discuss post 16 pathways or other aspects of education and employment, they can contact the school Careers Leader — Stacey Drake alternatively lots of information is available on the Daventry Hill School website. Throughout the school, we have display boards, information postings and Future Fridays delivered as a weekly event to share and present labour market information. This information is uploaded to the Daventry Hill School website and is shared on the school communication system class dojo. Information on additional providers, open days and events is shared with families regularly.
Staff training & development
The School's Careers Leader is part of the careers network groups and proactively updates staff members with the required information and provides training where required. The careers' leader is level 6 trained in careers management and has obtained the full diploma to be able to provide impartial advice and guidance in line with statutory requirements.
Monitoring, review and evaluation
We monitor how we are achieving against the Gatsby benchmark by completing the Compass tool every 6 months. The latest compass has been completed with a Semlep enterprise co-ordinator and enterprise adviser. From this information, we devise an action plan to move the school forward, and this is made a focus on the school's developmental plan.
We monitor data with assessment data drops across the year. It is recorded on 'Evidence for learning' linked to employability. We monitor and publish destination data with a focus on employability and educational pathways.
Careers Programme
Here is an overview of the careers programme taking place at Daventry Hill School and sixth form– 2020/2021.
This is personalised to student's needs. We only offer experiences that are meaningful and add value to our young people.
Employability and work-related learning sessions delivered weekly
Accreditation where relevant
Work experience – Internal and external, volunteering projects, job shadowing – We have an internal work experience student intern programme. This consists of student's vacancies advertised regularly and mock recruitment progress and training carried out.
Inspiring the future - Employer and employee engagements – Internal and external including workplace tours and practical workshops
Work experience programme embedded into student's weekly timetables, extended over each term – accredited through Princes Trust
Vocational offsite placements for students
Working alongside JobCentre Plus, DWP representatives and Workdays
Rotary club sponsored competitions and events. Collaboratively working with other special schools within Northamptonshire
Enterprise day and Careers day enrichment activities working with business partners and employability specialists.
Virtual post 16 transition events.
Work Related Learning
We offer different work related learning models, all of which aim to provide students with the experience of the world of work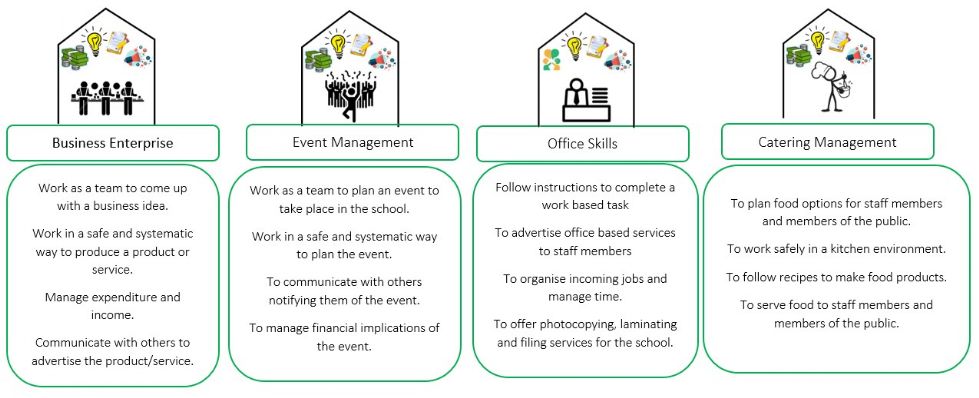 General aspects of work life are covered within these sessions including, health and safety, money management, social skills and working with others. At the start of each session there is an expectation that students sign in and sign out to distinguish between these sessions and other school learning.
Summary of Career Programme
Using the CDI framework and Gatsby benchmark as guidance, we have developed the programme to cover the main areas of:
SELF DEVELOPMENT – Encouraging our students to understand themselves, their abilities and their influences on them.
CAREER EXPLORATION – To investigate opportunities in learning and the world of work.
CAREER MANAGEMENT – To allow our students to develop employability and enterprise skills. To make and adjust plans to help manage with change and transition.
Our Careers Programme offers all our students the opportunities to feel empowered, promote self-advocacy and manage their futures. As educators, we respond to the needs of our learners and provide them with meaningful, impartial information and advice. We actively promote equality of opportunity and challenge stereotypes, to ensure we ultimately help our students to progress, and become happy and successful adults.
Yearly Overview of Careers Programme
The careers programme is delivered in a variety of ways. This could be as part of work related learning enterprise project, Employability/life choices lessons, circle time or woven within other curriculum areas. The flexibility is there to allow the needs of the students to be considered.
Here are some examples of the enrichments day that will take place in 20/21 academic year. Please see the full calendar of events for a breakdown. If you are an employer and organisation and would like to be involved. Please get in touch with S.drake@daventryhillschool.org.uk