Restorative Approach
Daventry Hill School adopts a restorative approach following incidents which helps develop a healthier learning environment, where children and young people take responsibility over their own behaviour and learning.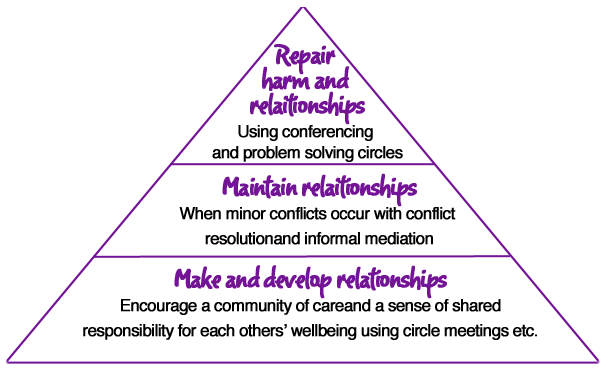 By adopting this approach it ensures that the minds of those involved are focused on strengthening and repairing relationships and are inquisitive about what needs to happen and avoid attributing blame.
When embedded across the whole school, using restorative approaches can:

Develop emotional literacy, responsibility and empathy
Create a more positive learning environment with better attendance, and fewer behaviour incidents
Raise children and young people's awareness of the impact of choices on others
Reduce the number of exclusions
A restorative approach is based on:

Respect for one another, acknowledging that each person has an opinion that is unique but still of value
Taking responsibility for your own actions
Developing the skills of the whole school community to solve problems and repair harm
Through developing a school ethos based on needs and values, we can avoid assigning blame and punishment by creating an environment where children involved in conflict can reflect, repair and avoid repetition of the same behaviours.