Skills For Life (KS4)
To develop skills for my future.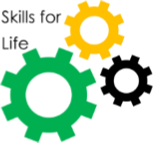 In Skills for Life students have the opportunity to develop the skills that they will need for their futures beyond Daventry Hill School.
We continue to develop the personal skills that are a focus of the whole school curriculum and students are given more real life scenarios in which to apply them. They are taught life skills that will help them become more independent in the future such as household management, an understanding of personal finances and how to travel within the community safely and effectively. They also have an opportunity to develop their employment skills through a series of work related learning options that take place both within school and within the community. All of this is completed alongside accreditations that are appropriate to the individual such as Functional Skills qualifications in English, Maths and ICT, and Duke of Edinburgh awards.